The lab is set to serve the Australian agricultural industry's growth over the next ten years as interest in genomic testing increases. It will supply farmers around the country with food safety products and better access to genomic testing.
Meeting the demand
NEOGEN's senior regional director Bobby Creasman and his team started their journey towards their Australian operations in 2017 when they acquired the University of Queensland's Animal Genomics Laboratory. Before they came to Australia, farmers had to send their samples from around the world to the US for genomic testing. NEOGEN brought its services here to give livestock farmers timely test results, easy access to food safety supplies and ultimately better and more reliable farming practices.
But when they officially moved into the facility in 2018, they realised the size of the lab was limiting their resources, their commercial output capabilities and set a hard ceiling on the number of samples they could test. They needed more room to keep up with the demand.
So, they moved to a new site in Ipswich and partnered with Cushman and Wakefield who recommended FDC's construction and fitout services. Together, they planned to create an efficient facility that could provide NEOGEN with space to grow, and the room to meet rising testing and commercial output demands.
This included three National Association of Testing Authority (NATA) approved DNA labs, a food safety lab, warehouse space, freezers and cool rooms, an extended car park, services upgrades and more.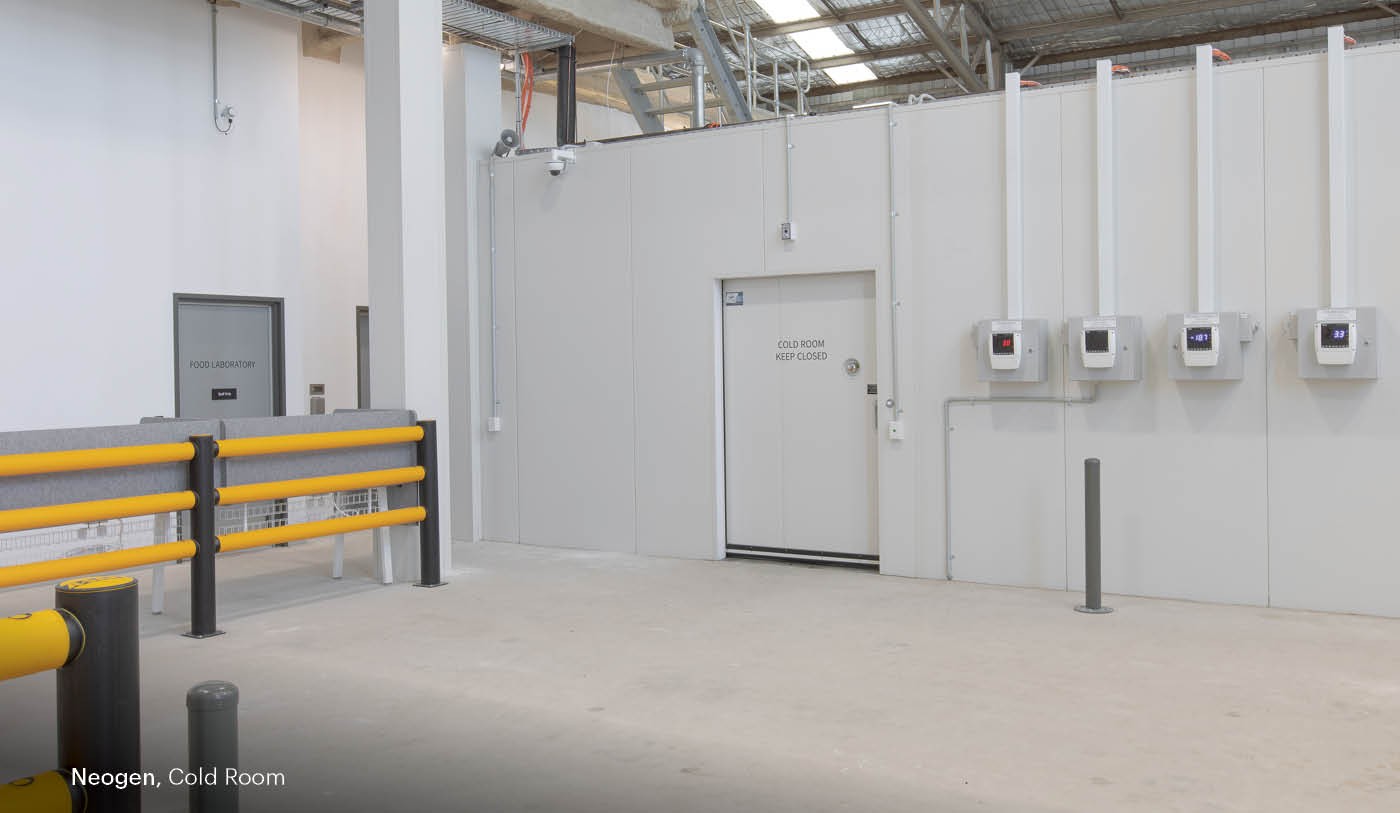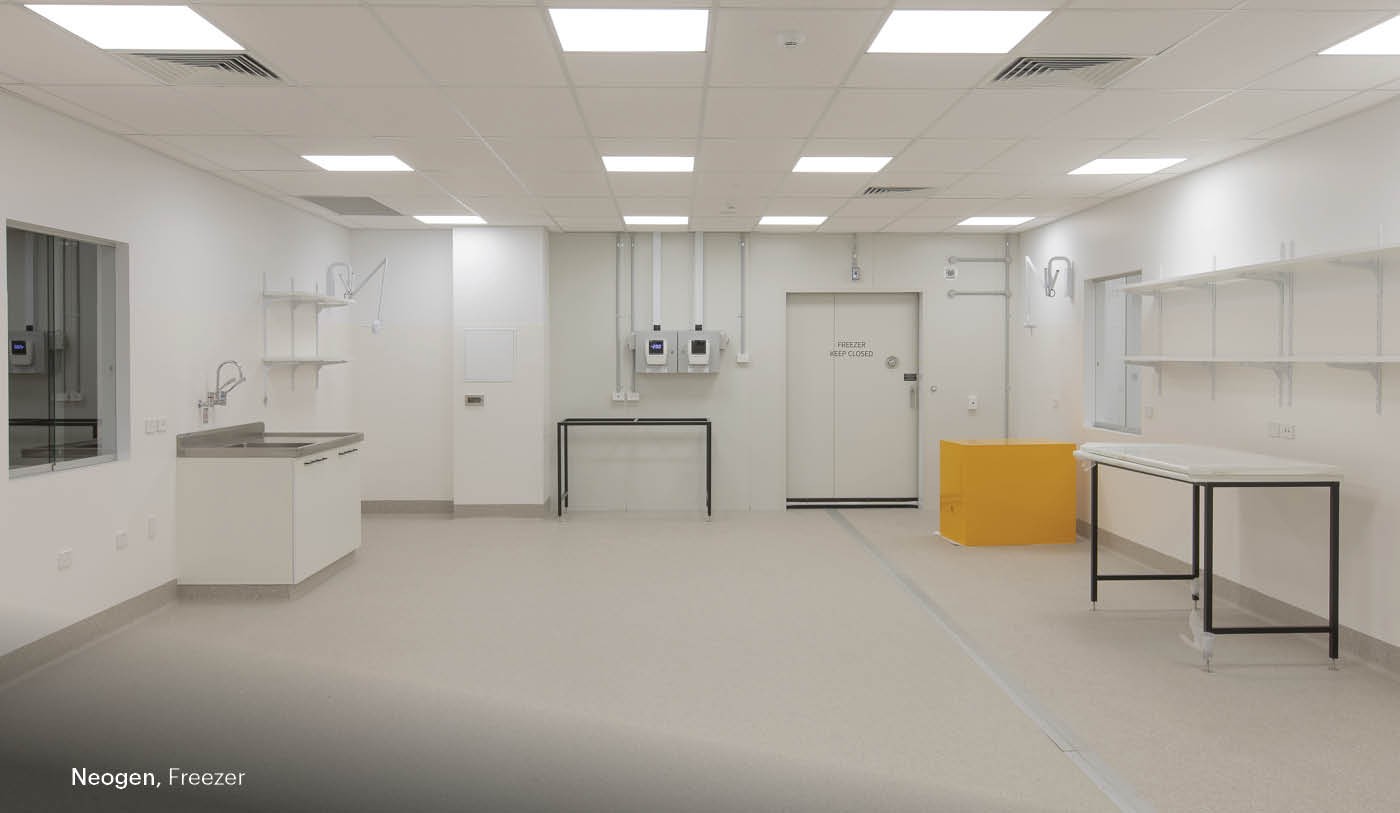 Foundations for growth
The new facility presented an interesting challenge for FDC – site testing revealed that the top ground layer consisted of clay, followed by layers of pristine beach quality sand. A less than ideal foundation for any construction job.
So FDC, Cushman and Wakefield and the design team put their heads together and came up with a solution.
"Because of the reactive ground conditions, we were required to excavate further to discover stiffer foundations and to build up the subgrade with denser materials," said FDC Project Manager George Bellas. "We had to remove over 5,000 cubes of existing material before we could build the ground level back up."
After this, the team approached the next hurdle. The current structure on site had to be retained, so the team designed a building within a building.
We built the inner building's frame from strong steel upon this was then completed with a multipurpose "sandwich" cladding that brought the building up to current fire safety and Section J standards. It was used for everything from the walls to the ceiling, providing a clean, minimalist look for the facility.
The outer structure blocked all-natural light from entering the building. The team created a clever illusion – they installed skylights that reflected light off white polycarbonate panels mounted on the existing outer structure, casting a natural glow back inside.
With the foundations addressed and the core of the facility built, the team could then begin fitting out the interior. Including the star of the build – the labs.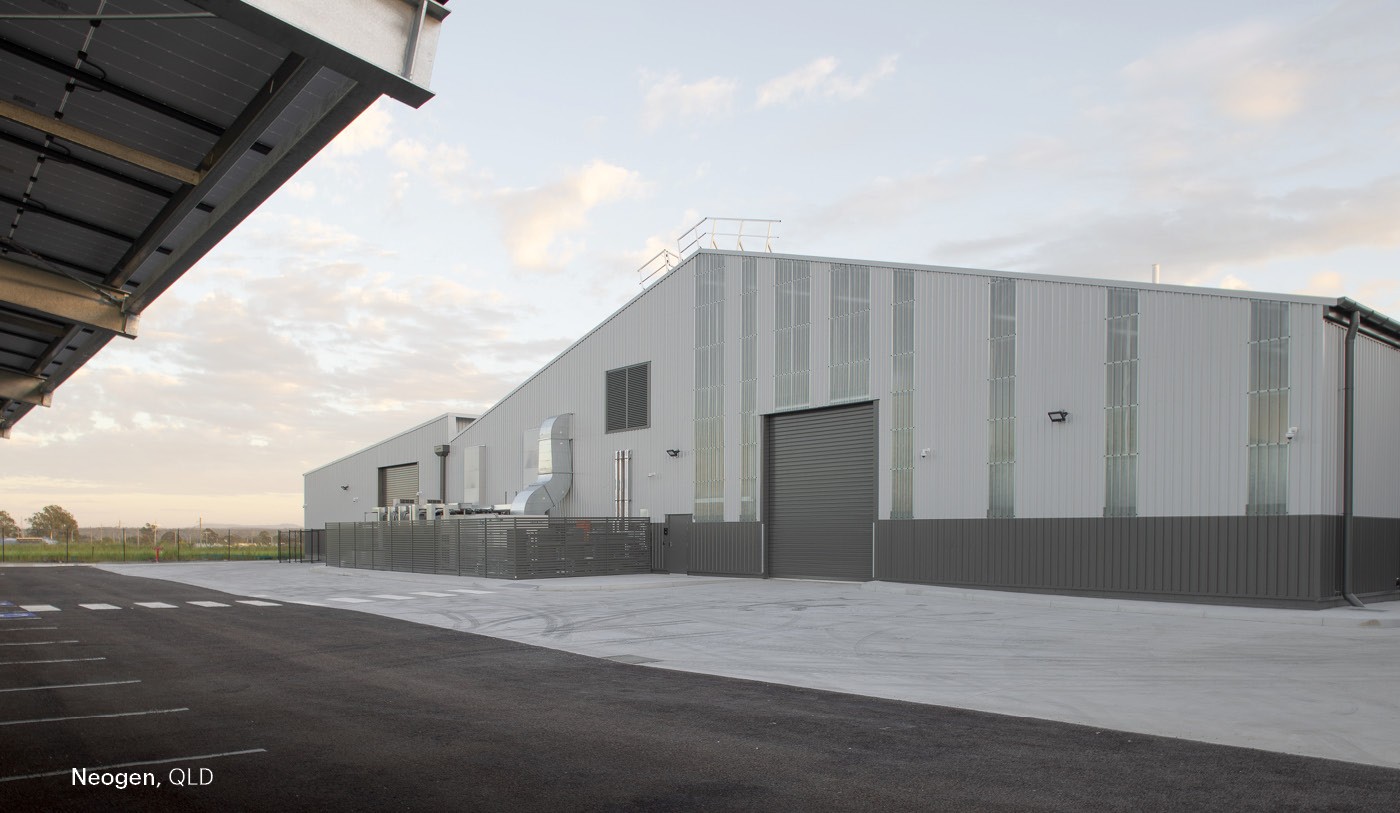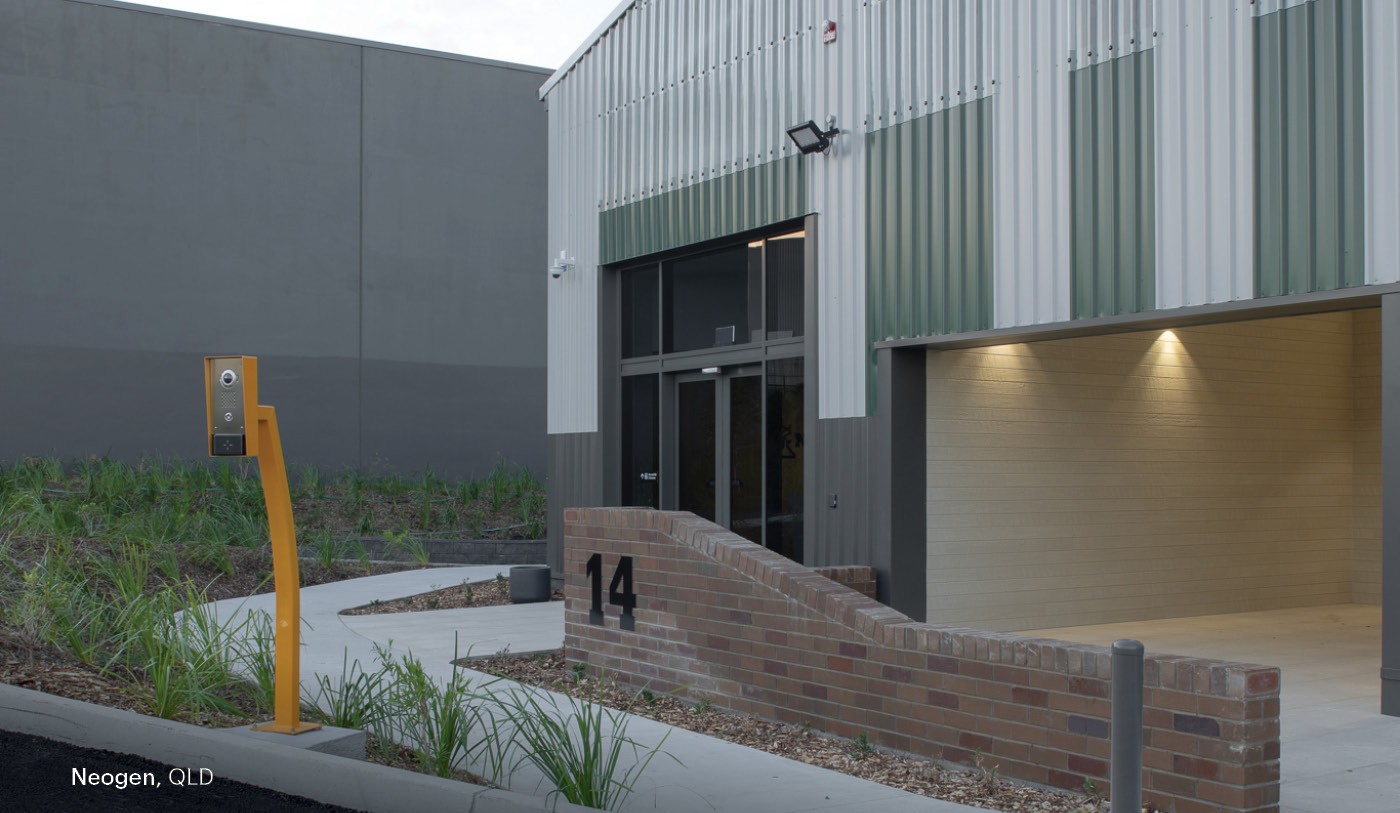 Efficiency at its finest
With efficiency at the centre of the labs, every step of the sample journey – from when the sample arrives, to its movement through labs – was mapped out by the team in the design phase. Each lab was positioned and fitted out to turn a sample into data as quickly as possible.
The labs have also had extra room to introduce new technology – such as skim sequencing (SkimSeq) machines that will arrive in the next year. SkimSeq is a narrower version of whole genome sequencing. It's more detailed than current fixed array testing and less time consuming than a full sequence. It will maximise the labs efficiency and allow for more in-depth testing in the food safety lab.
NEOGEN's original Australian facility was only capable of taking a maximum of 6,000 tests per month. Today, the new lab can process up to 60,000 samples in the same amount of time – and as their capabilities grow, this number will too.
"Over the next five to ten years, we're going to see further adoption of genomics in agriculture, especially as it reaches the commercial space," said Bobby. "This facility sets us up for that forecast and will allow us to keep up with the demand on genomics and food safety testing."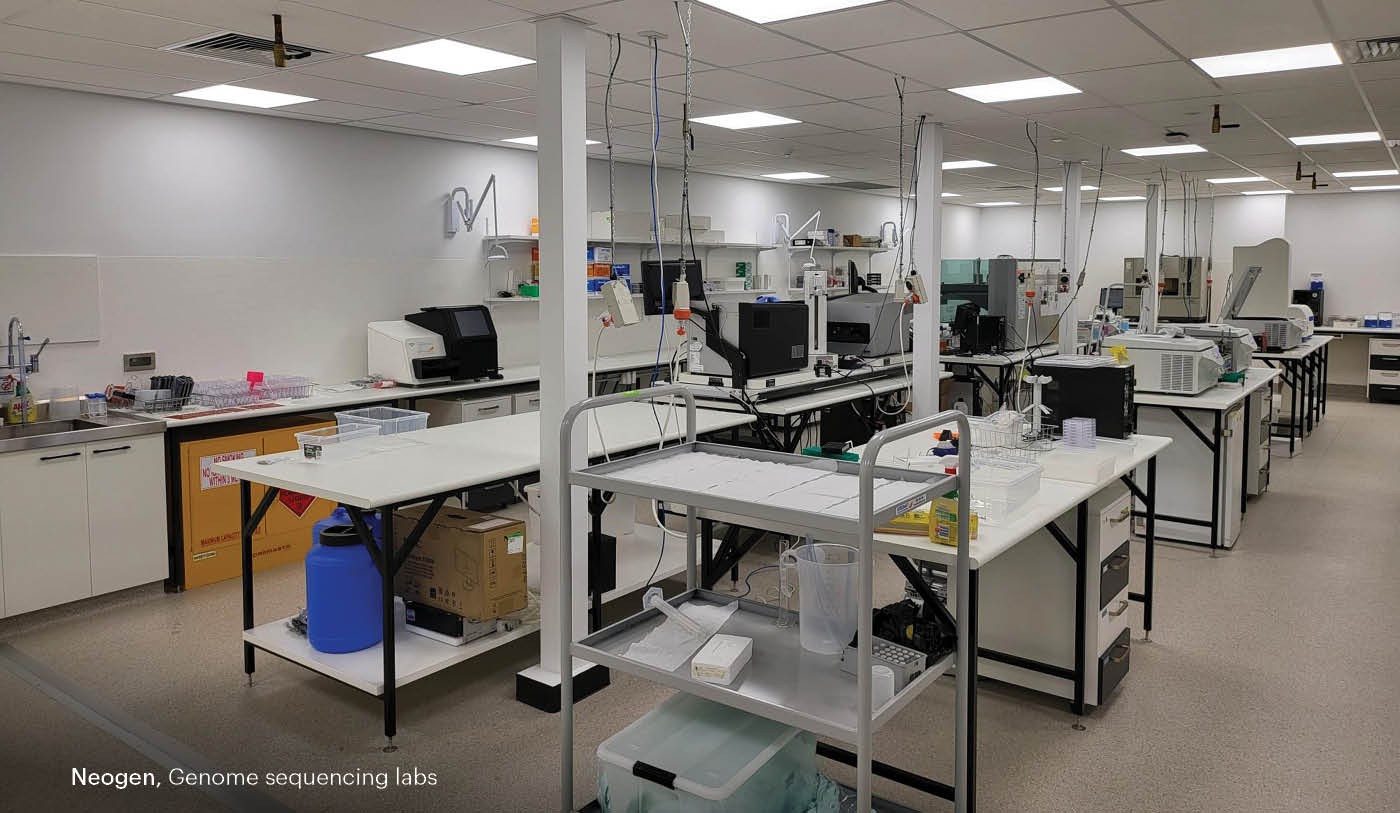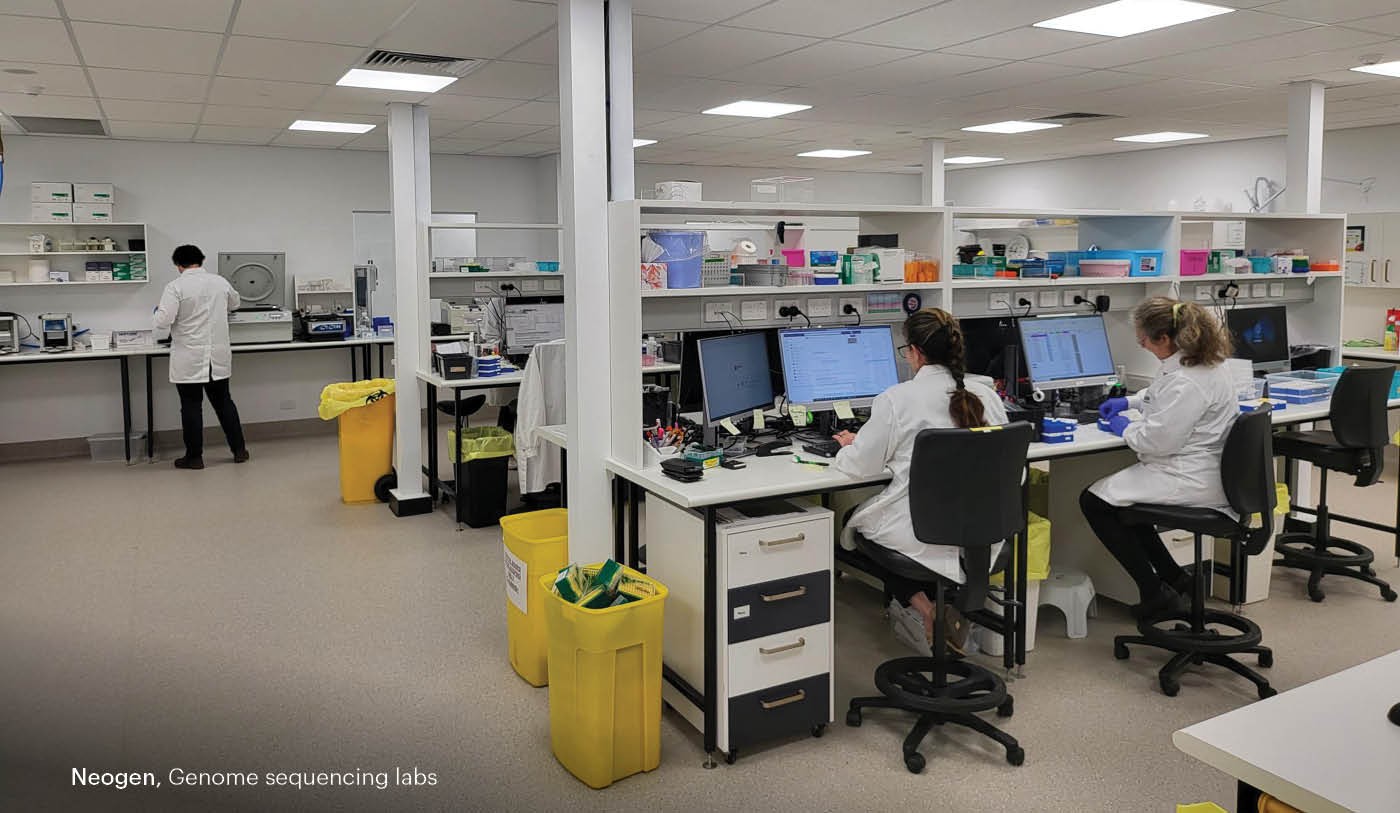 Genomics for the community
NEOGEN is excited about the opportunity that this new lab presents for Australian agriculture and the local Ipswich community. It will provide entry-level to high-end technology and laboratory positions, boosting the local area's employment opportunities.
"FDC loves to invest in projects of this nature – we're excited to watch NEOGEN evolve, and thrilled to be part of their journey," said George.
"NEOGEN's new lab presents so much promise and opportunity for the future and FDC is proud to have contributed. We're excited to watch NEOGEN's growth locally and nationally as they continue to support the local area and Australia's agriculture industry."
Photography by Mitch Lowe Photo.