The life-changing impact of Aspect
To many children on the autism spectrum, social interaction and communication don't come naturally. They can have high sensory needs and feel easily overwhelmed by large crowds, noise, bright lights and strong smells.
"Many of our students don't develop speech by the time they start school, which makes it even more difficult for them to express themselves and stay emotionally regulated," says Nadja Balemans, Philanthropy Executive at Aspect. "Our schools cater for all of their special needs by providing a safe space, as well as individually tailored education and support."
Class sizes are small, with a high teacher to student ratio (six to eight students and two teachers). Specially trained teachers and teacher's aides provide tailored support to each student based on their individual goals.
"We use a lot of technology in our classrooms, including speech generating devices, autism-specific learning apps and interactive whiteboards," shares Nadja. "On-site therapists also support our students, who can access occupational therapy, speech therapy and behaviour support sessions while they are at school. When students receive an autism-specific education this also has a positive impact on their mental health and overall wellbeing."
The change for Matias was instant – two days after moving to Aspect Western Sydney School's satellite class he was happy to go to school again.
For Damon, one of the biggest benefits of Aspect is that satellite classes are based within mainstream schools.
"Matias has one on one support, but he can also participate in mainstream classes, like Woodwork for instance. It's important for him to have the opportunity to mix with his peers, but it's equally important for his peers to interact with Matias and others on the autism spectrum. It's a wonderful way to help shift society's perceptions about disability."
Aspect aims to prepare students for a successful transition to a mainstream school, where they can access the same opportunities as their peers without disability.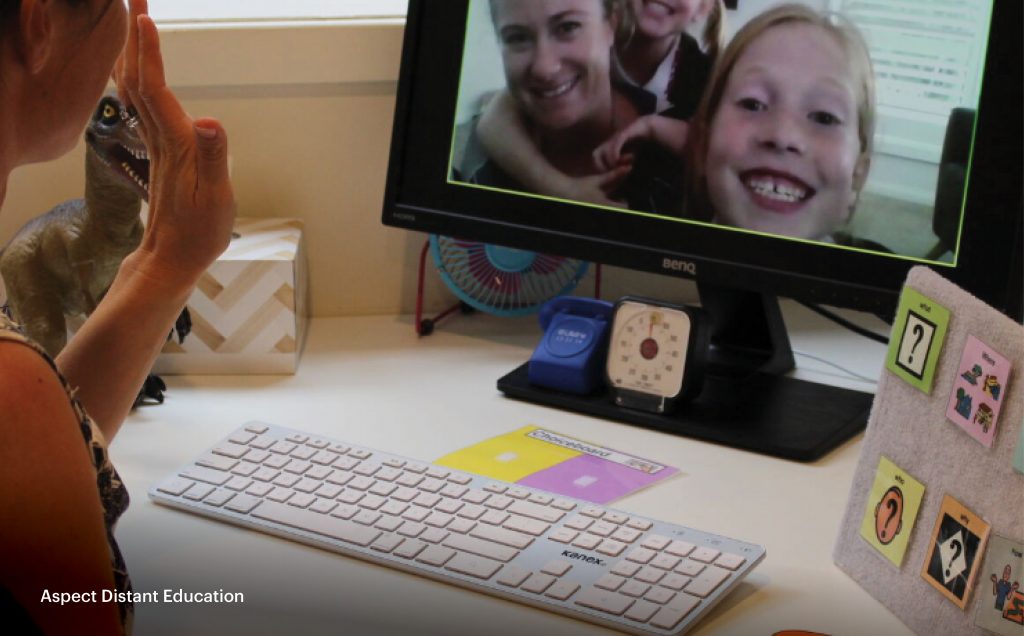 Overcoming geographical challenges
But not all kids on the autism spectrum have access to Aspect's wonderful teachers and resources. Access to autism-specific education in regional and remote communities is lacking, so these areas have a real need for support.
"I remember riding through Forbes in Central West New South Wales for an FDC charity bike ride," Damon recalls. "I thought about how difficult it must be as a parent to have no support readily available for your child. Everyone says every child is entitled to an education, but the reality doesn't always match the rhetoric."
But Aspect aims to change that. In 2020, it launched its autism-specific Distance Education program out of the Aspect Hunter School.
"Provided to students from Year 3 to Year 6 who don't live near an Aspect school, our autism-specific Distance Education program is the first of its kind in Australia," Nadja says. "The program allows students on the autism spectrum to learn from home by connecting them to teachers via a range of digital learning tools."
It supports children in regional and remote communities who do not live close to an Aspect School. Students learn from home and participate in at least 15 face-to-face days at the Aspect Hunter School in NSW each year.
Expanding support
At FDC, we support charities that have a personal connection to our people. Given how much Aspect has done for one of our families, we are very proud to be able to give back to the organisation. By supporting the expansion of Aspect's Distance Education program to 10 students in high school, we hope more children like Matias can benefit from Aspect's unique approach.
"FDC's generous contribution of $25,000 will enable us to extend our Distance Education program to Year 7 and 8. We'll be able to offer more Autistic children in regional and rural areas of NSW access to tailored support and technology needed to participate in the program," Nadja explains.
Damon is proud to be working for a company that continues to give back to the community.
"FDC is such a generous company, always getting behind really good causes. And it's just incredibly thoughtful of them to do something like this for my son's school.
"We're so grateful for Aspect. It provides such amazing support for kids, and for parents."