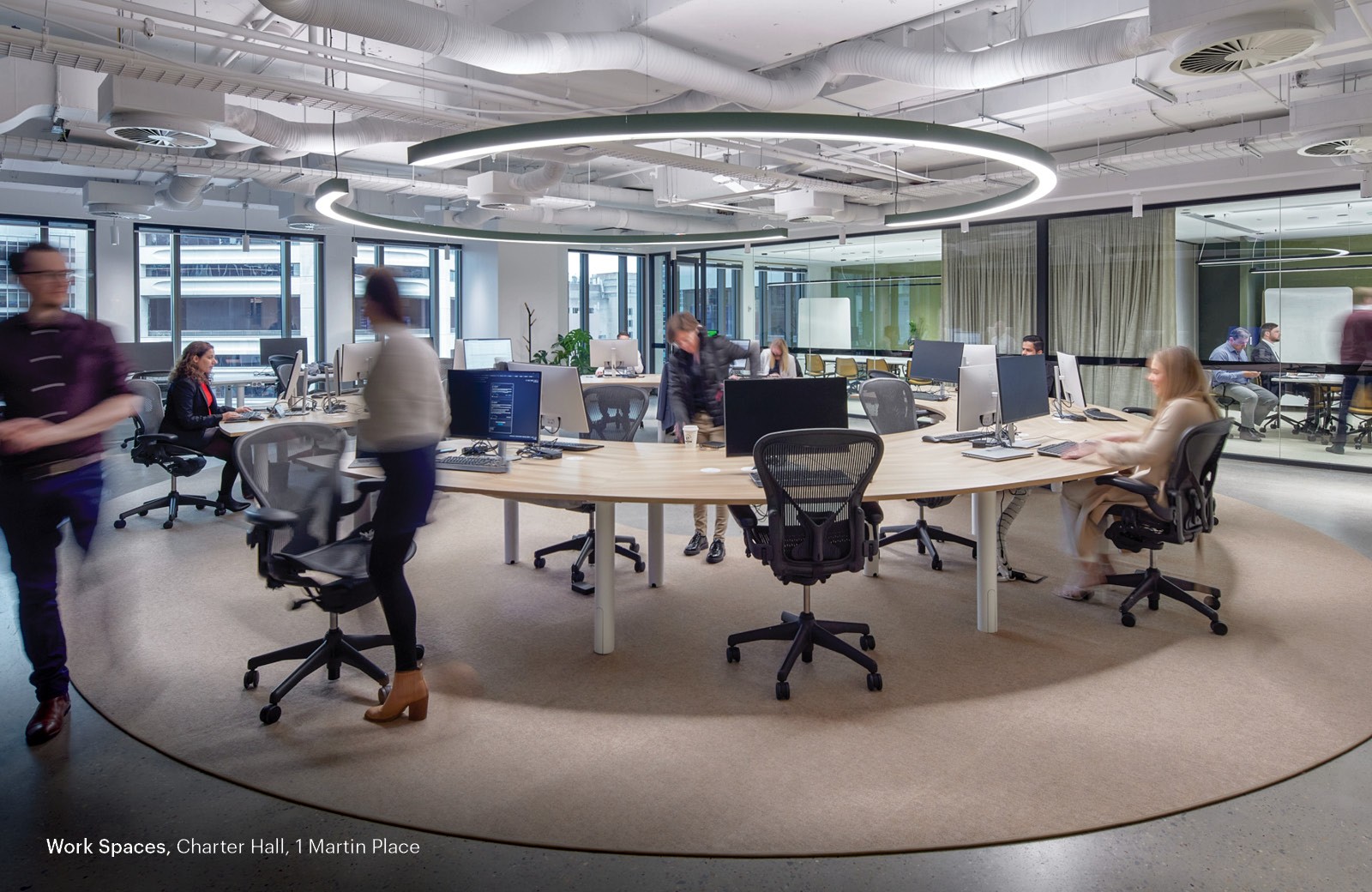 When FDC was engaged by property investment management company, Charter Hall, to deliver a full fit out of its offices, it was with a few key visionary directives in mind. First up, three full floors, 18 to 20, were in line for a makeover. Secondly, the fit out had to deliver more than just functional office space.
It had to be engaging, warm and welcoming enough to entice post-pandemic employees to feel excited about working in the office again. It had to enhance a sense of connection, collaboration, focus and wellbeing. And thirdly? It had to be done as sustainably as possible, creating a minimal carbon footprint, with all of the above completed in a live office environment.
"Charter Hall wanted us to create a functional workspace that was open and connected, but they also needed the workspace to remain open for regular business during the fitout," explains FDC Project Manager, Owen Lattin. "Together with Bates Smart Architects, Aston Consulting, Spectrum, MCD Fire Engineering, Meredith Bonacci Structural Engineers and WT Partnership, we created a three-story fit out in this live setting."
"Through careful staging and meticulous planning, we completed new office spaces, bathrooms, team kitchen and break areas, a business lounge, meeting and innovation spaces and an atrium to connect all three floors – all with minimal disruption to the active office and on-time delivery."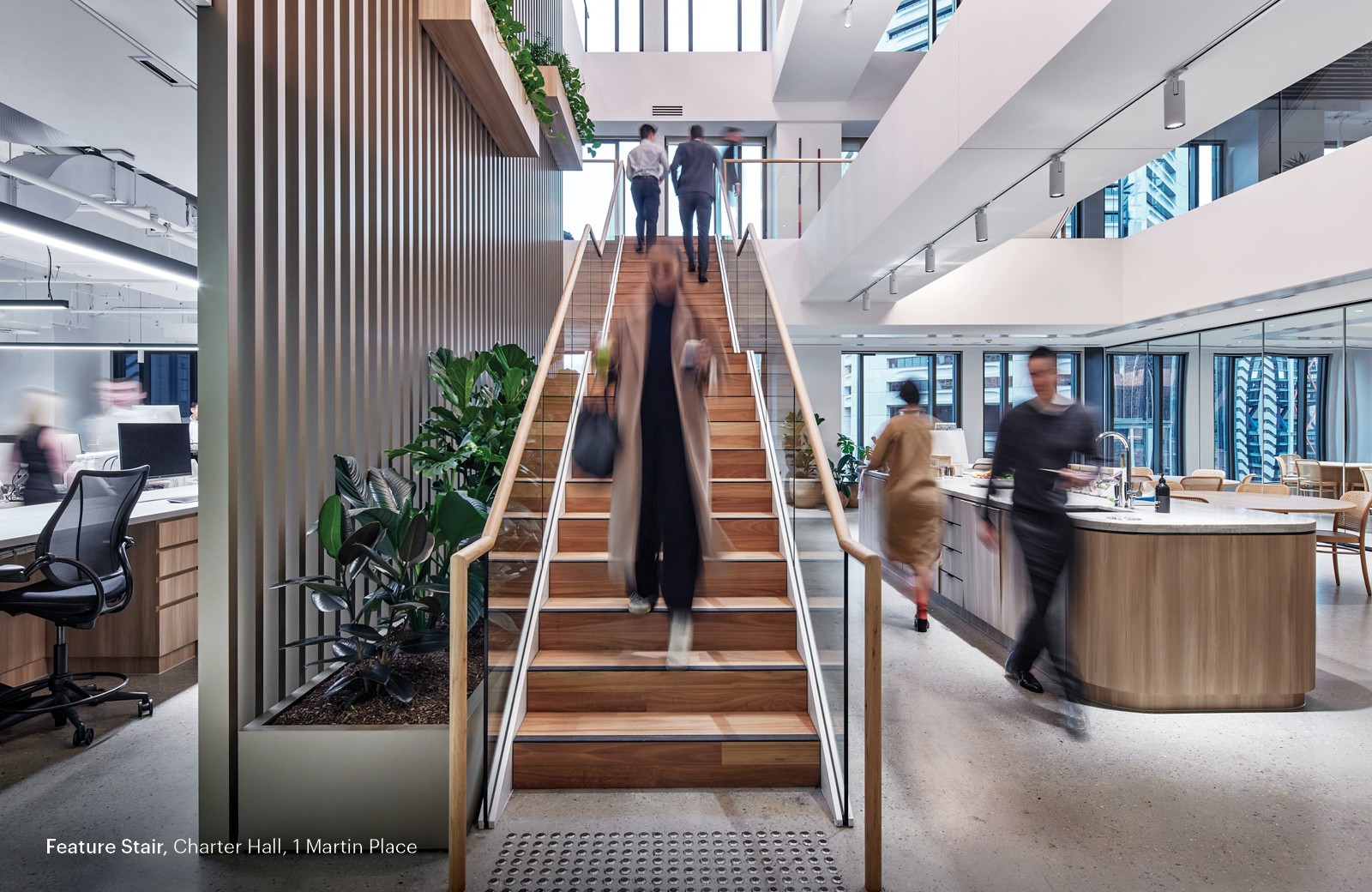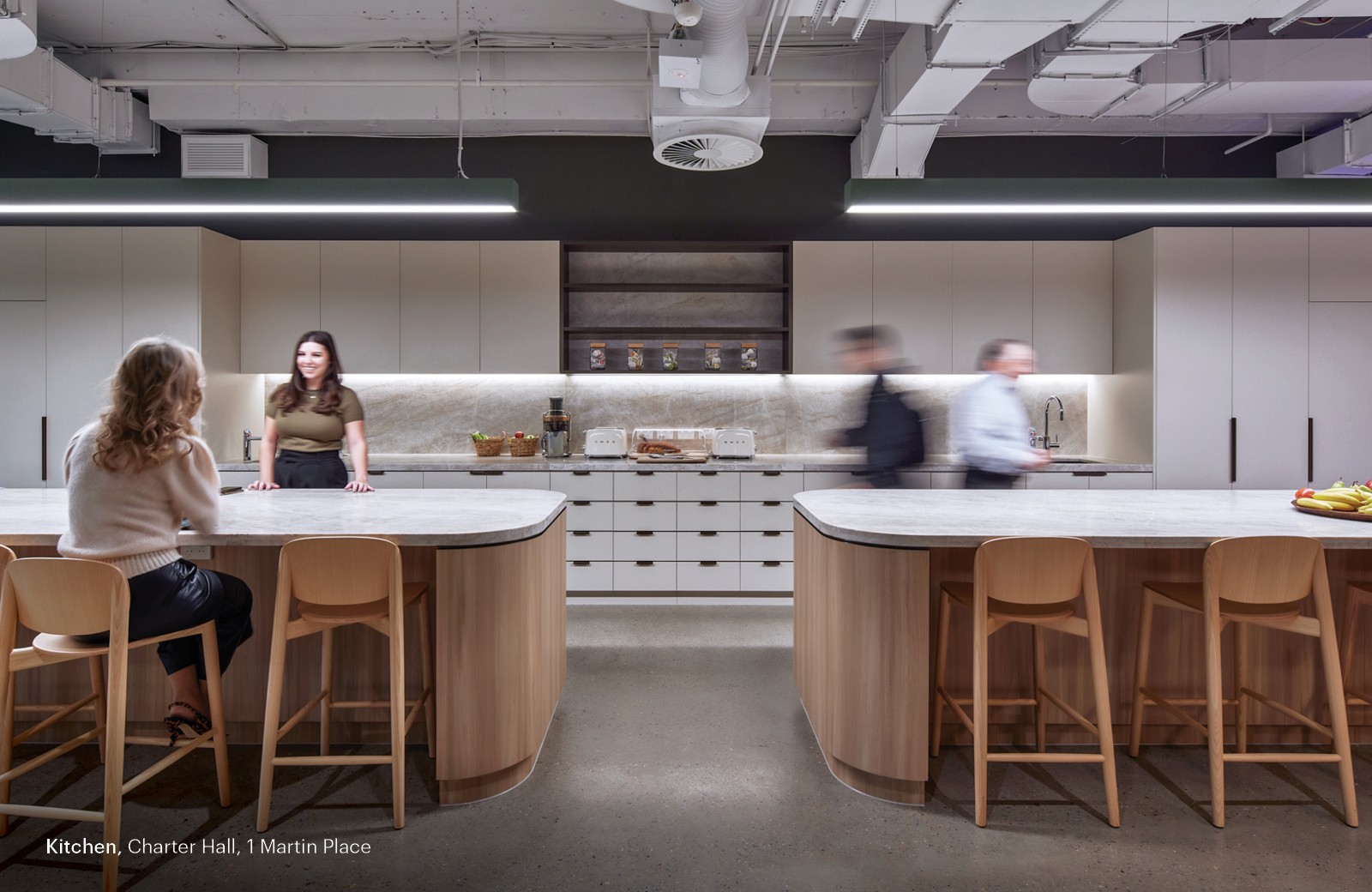 Smart details
The finished product was an exercise in Charter Hall's sustainable innovation. The team reduced the carbon footprint of the project by reusing as many elements from the old fit out as possible, giving new life to recycled materials.
Level 20's flooring was repurposed to become the interconnecting stairs of the atrium. The old kitchen bench top had a lofty upgrade to the board room, where it lends elegant marble detailing to the boardroom tables and benches. Approximately 125 workstations, as well as all joinery and furniture, was salvaged and upcycled.
In the bathrooms, the team installed Caroma Smart Command, a system that minimises water waste. It features completely hands-free, automatic taps and a leak detection system that activates an eco-valve to shut off the water from the leak. And there are mirrors. Magic mirrors. "They look like mirrors and they act like mirrors but they also have a screen within them, displaying how much water has been saved by the system alongside other workplace updates," says Owen.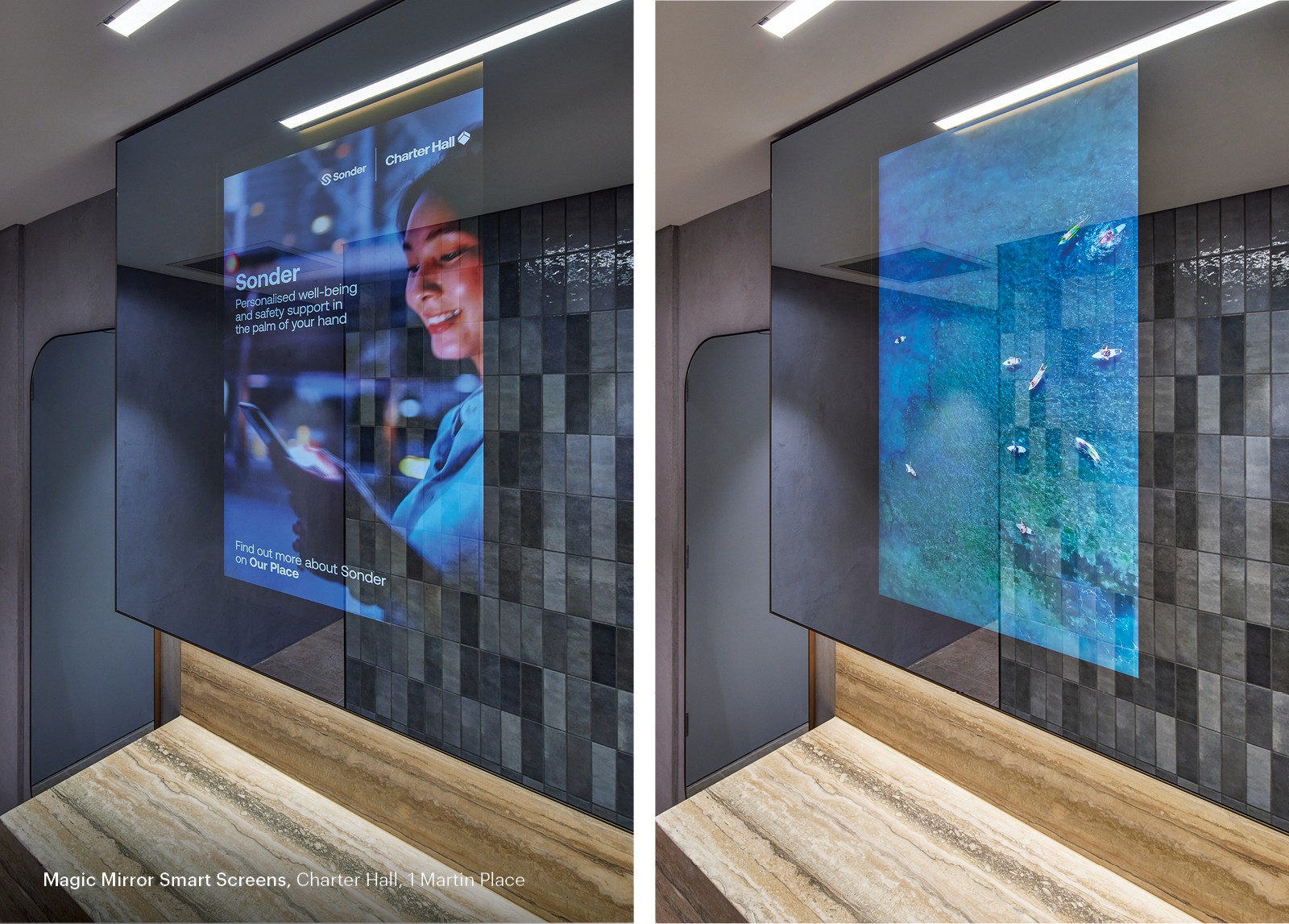 Creating connection
It was essential that Charter Hall's new fit out improved on the office's social offering, creating comfortable spaces that encouraged conversation and inspiration to flow.
The new business lounge, with its leather lounges, high-end finishes and coffee station, fit the brief perfectly, with expansive views across Sydney. The kitchen, the star of Friday night team drinks and breakfast catch ups, satisfied an appetite for both form and function, with custom circular banquette seating and stunning Brazilian quartzite stonework.
Innovation hubs were conceived to elevate collaboration with generous meeting rooms, function spaces and custom-built doughnut desks for teams to work together.
Each of the floors were designed in a loop, to promote a seamless flow of space. All three levels are connected by the new atrium, pendant lights delicately illuminating the recycled timber staircase. "The atrium is my favourite element of the project," says Owen. "It has been a pleasure to manage the transformation of this space and to witness it evolve from a construction site to a functioning interconnection for Charter Hall to use across their floors."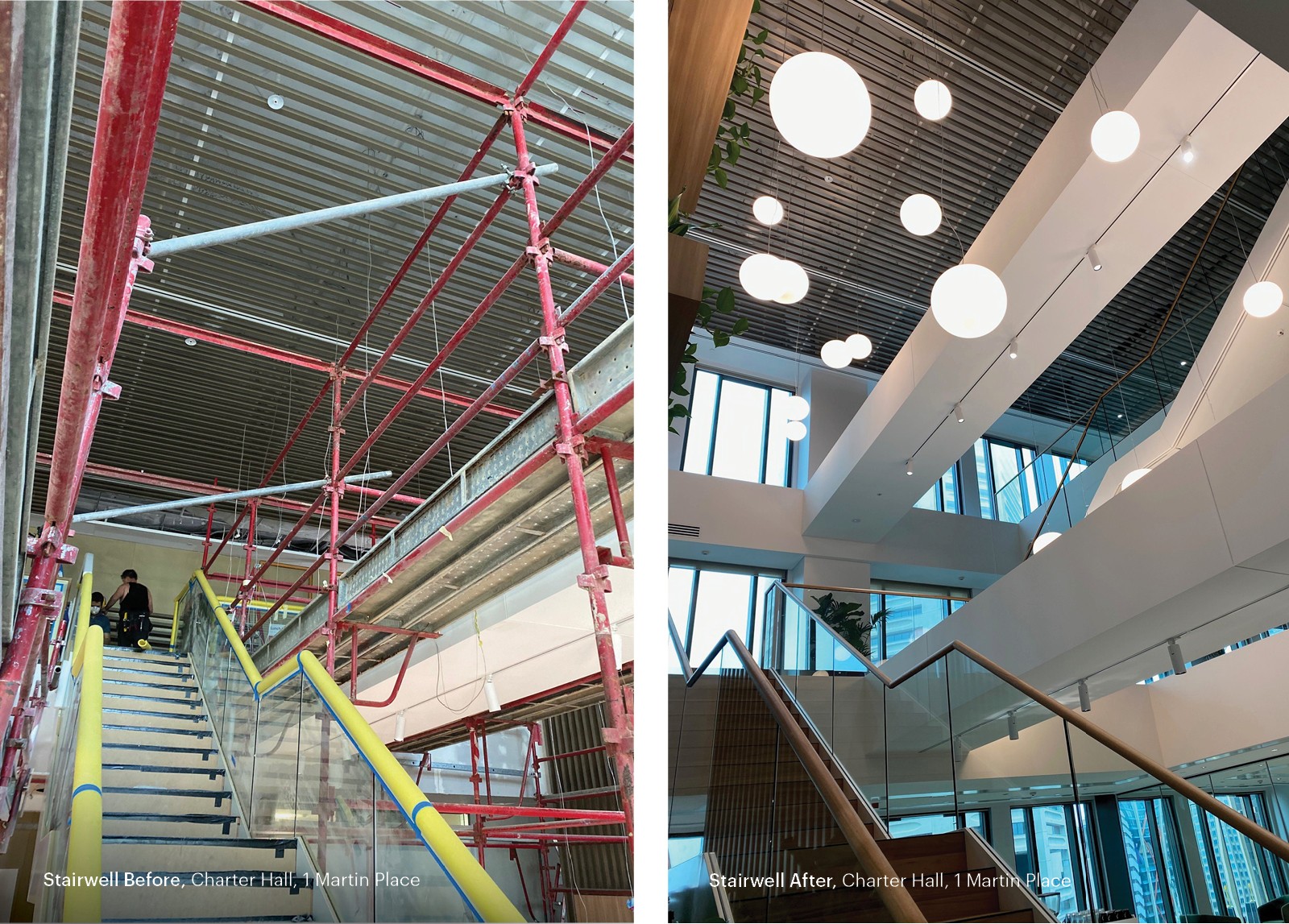 Photography: Toby Peet