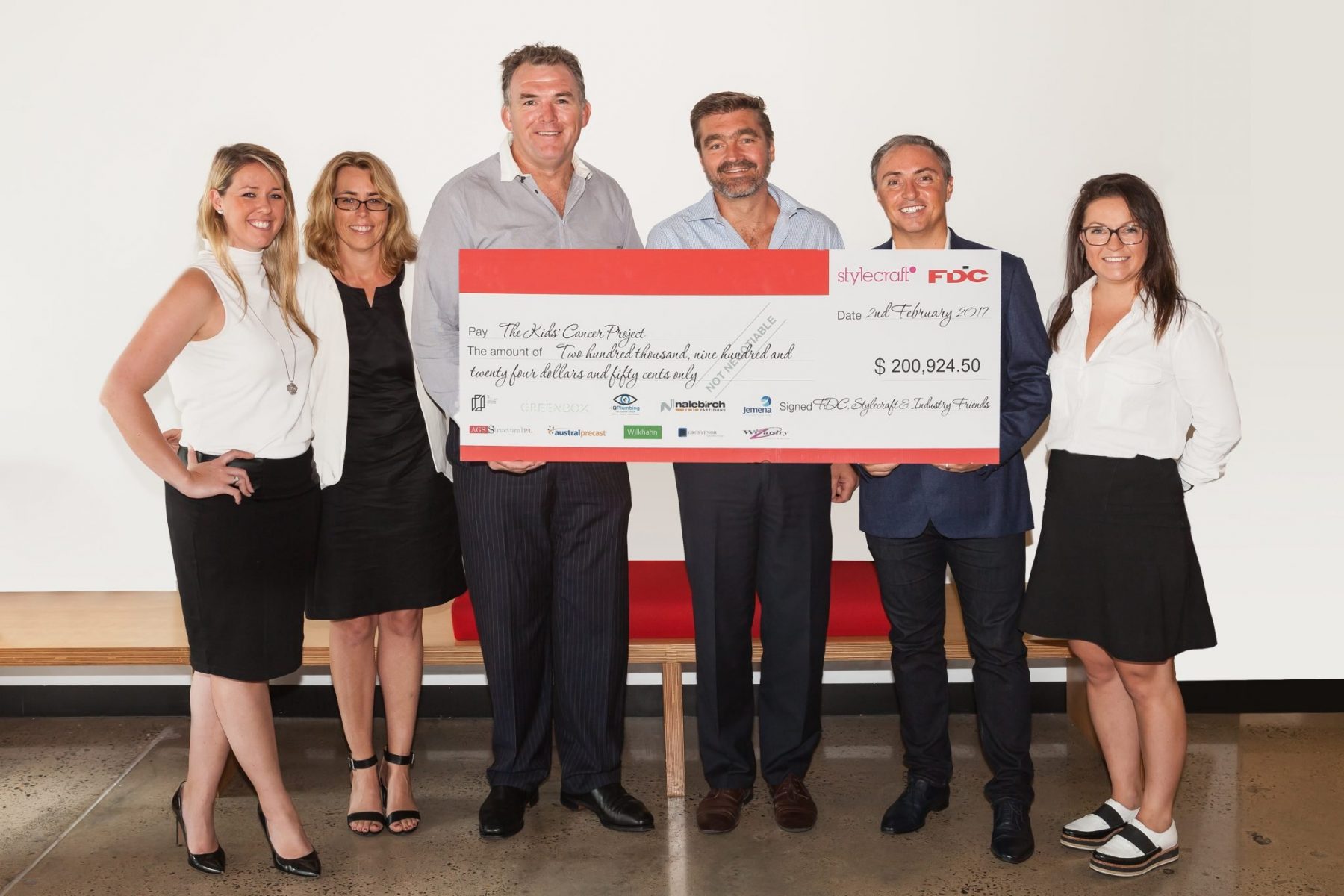 Through the collaborative efforts of organisers, sponsors, prize givers, table purchasers, auction purchasers and donors, a total of $200,924.50 was handed over to The Kids' Cancer Project (TKCP) at a 'handover ceremony' earlier this week. Pictured below from left to right: Ashley Howarth, Client Engagement Manager (FDC), Kim Babbage, Community Fundraising Manager (TKCP), Owen Finnegan, Chief Executive Officer (TKCP), Con Hart, Director (FDC), Anthony Collins, Managing Director (Stylecraft) and Summer Priest, Executive Assistant to Anthony Collins (Stylecraft).
These funds have assisted The Kids' Cancer Project to pioneer the 'Re-engage' program. Incredibly, 98% of childhood cancer survivors will develop a chronic illness as a result of intense cancer treatments administered to their developing organs. Given such a high risk of developing subsequent conditions, long term follow-up care for childhood cancer survivors is critical. The 'Re-engage' program will equip young survivors, who currently have no access to cancer follow up care, with the skills and information to cope with health challenges that follow cancer treatment in young people. This novel and low-burden intervention ultimately aims to improve long-term physical and mental well-being for childhood cancer survivors and standardise care nationwide.
Thank you to everyone that helped make the 2016 Melbourne Cup fundraising event such a success, in particular the team at Stylecraft – the FDC team were honoured to work with you for the 5th consecutive year to deliver Cup day.
We look forward to seeing you at our 2017 Melbourne Cup Event.