"At the moment a lot of aged care homes are very cold and hospital like – they don't feel like a home. It was really important to LDK to change this by creating vibrant retirement villages that provide care at all levels, something completely new to the industry," explained FDC project manager Elise Klarenbeek.
Through Greenway Views LDK has created something unique, where residents are a part of a sustainable and caring community.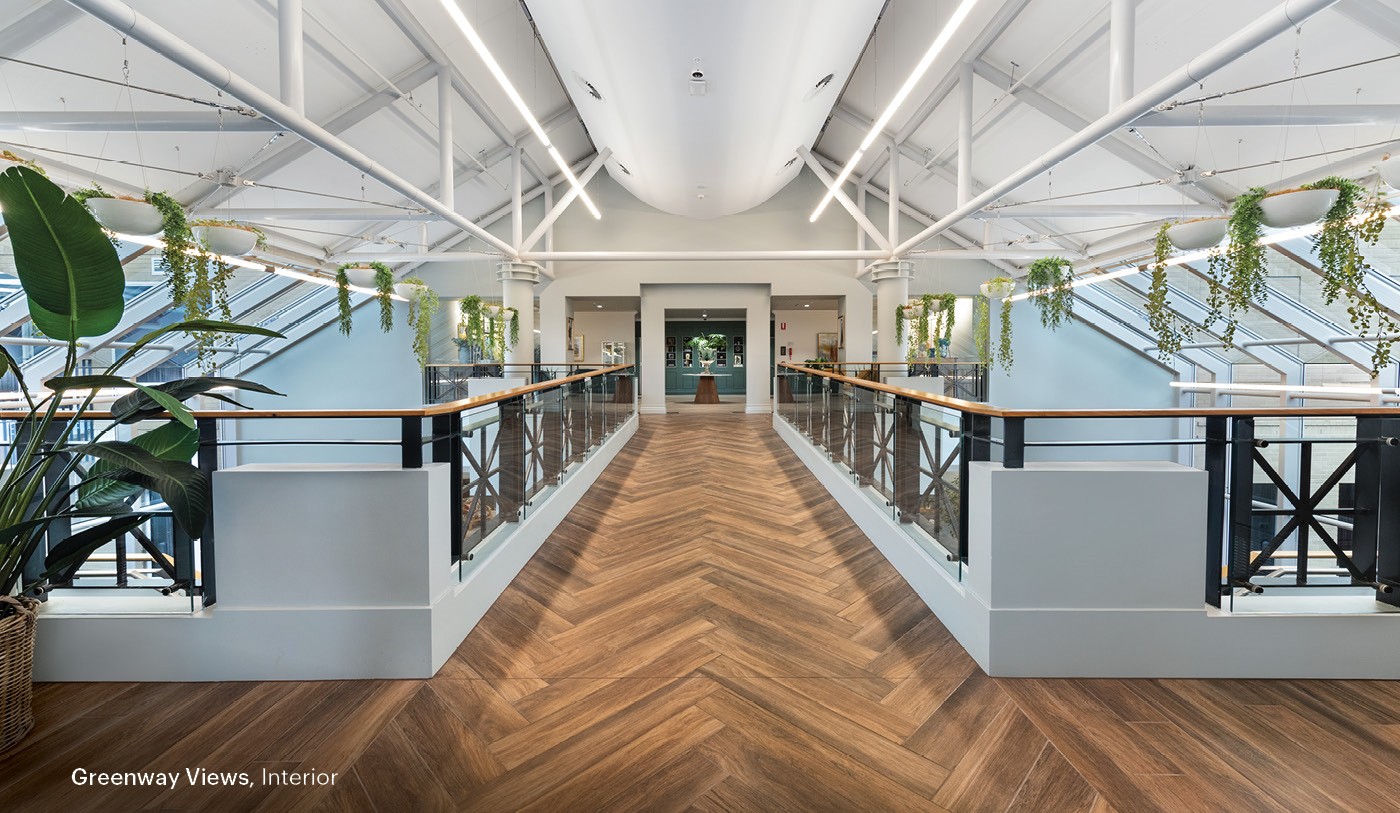 Transforming the retirement living and aged care sector
LDK's homes offer seniors privacy, a close-knit community and a sense of vibrancy. LDK's One Move Promise® means residents will never have to move again once they call LDK home and couples stay together for life. At Greenway Views, LDK wanted to create a warm and cheerful home where seniors can access all the support they need, if or whenever they need, in the comfort of their very own home.
The former Department of Social Services building was going to be the home of LDK's vision. In partnership with Cromwell Property Group (CPG), they wanted to create an engaged community with beautiful communal spaces for residents to enjoy including a theatre, restaurant, café and sports bar, with 210 private, spacious apartments across three fit-for-purpose buildings, offering all levels of care with 24-hour support.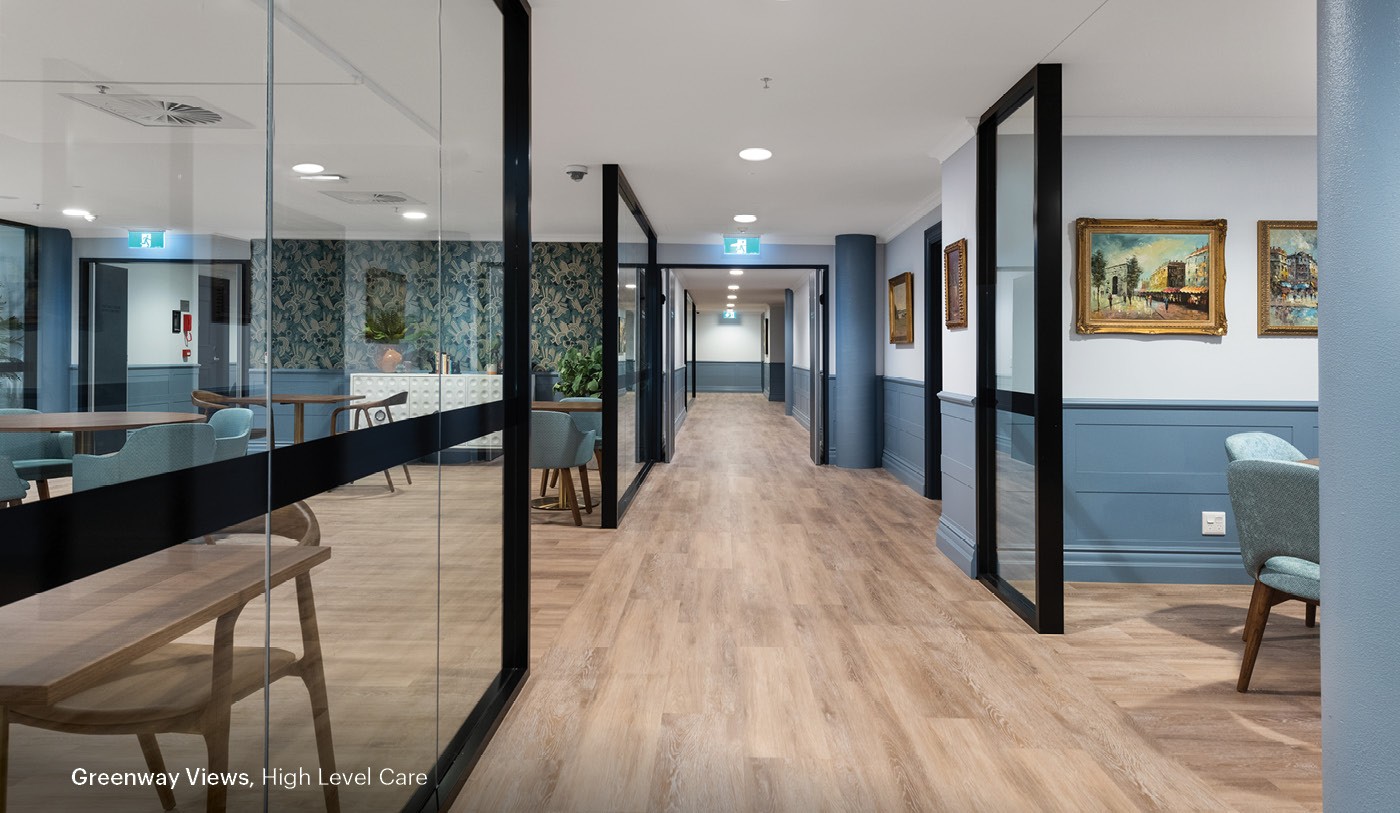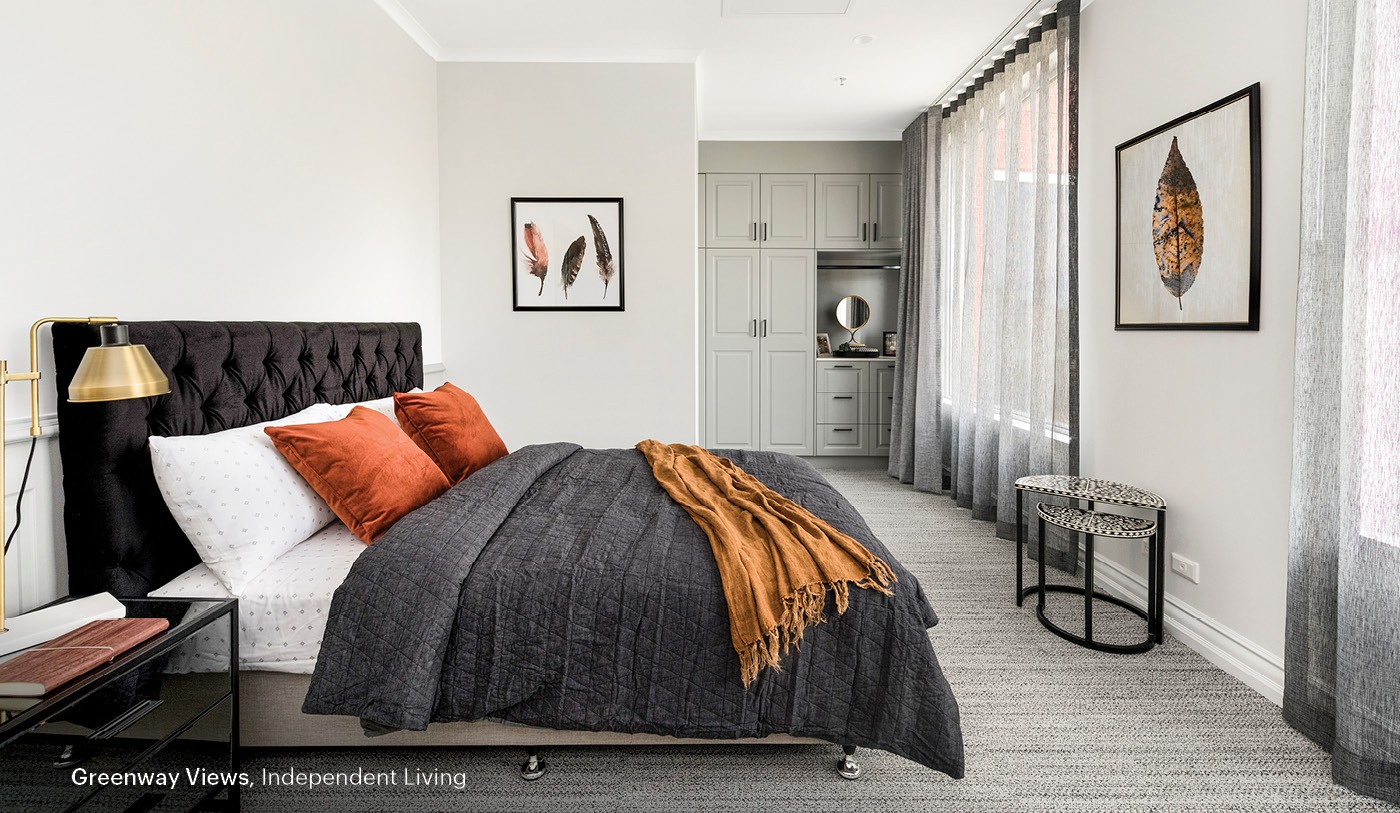 Building a new standard for seniors
Originally constructed in the 1980's as a government office complex, the site was to undergo rapid change – its orderly office cubicles were to be transformed into an inviting home for hundreds of senior Australians.
To fulfill its new role, compliance upgrades were required to be certified as aged care compliant ensuring all residents are able to move around the village easily and safely.
The multi-stage build had a tight delivery schedule, allowing residents and staff to occupy spaces as they were completed.
LDK and CPG needed an experienced team who understood its vision and could deliver quality within short timeframes.
FDC has worked closely with CPG on a number of projects, so the property group knew first-hand that our team would go above and beyond to stay true to LDK's vision – and deliver quality work on time.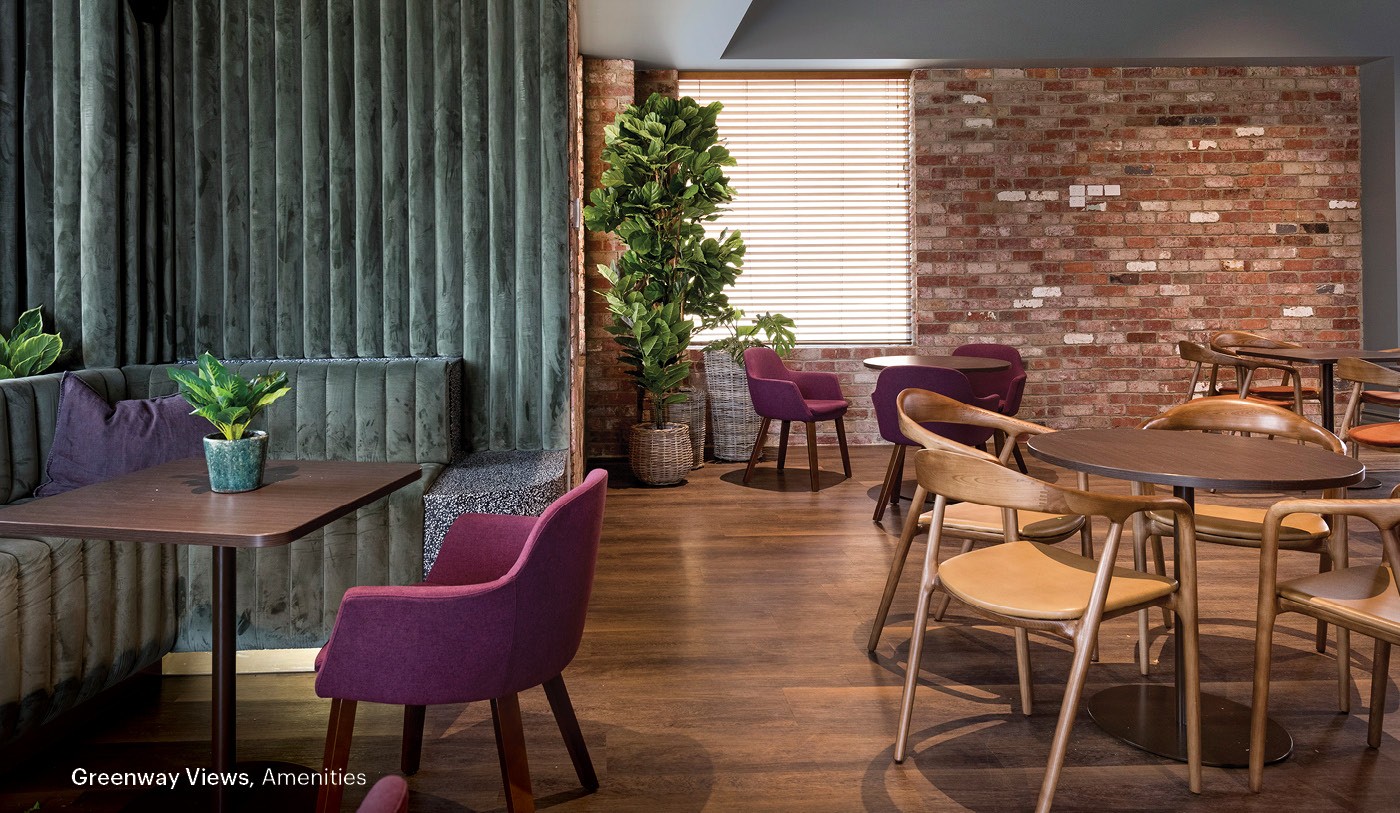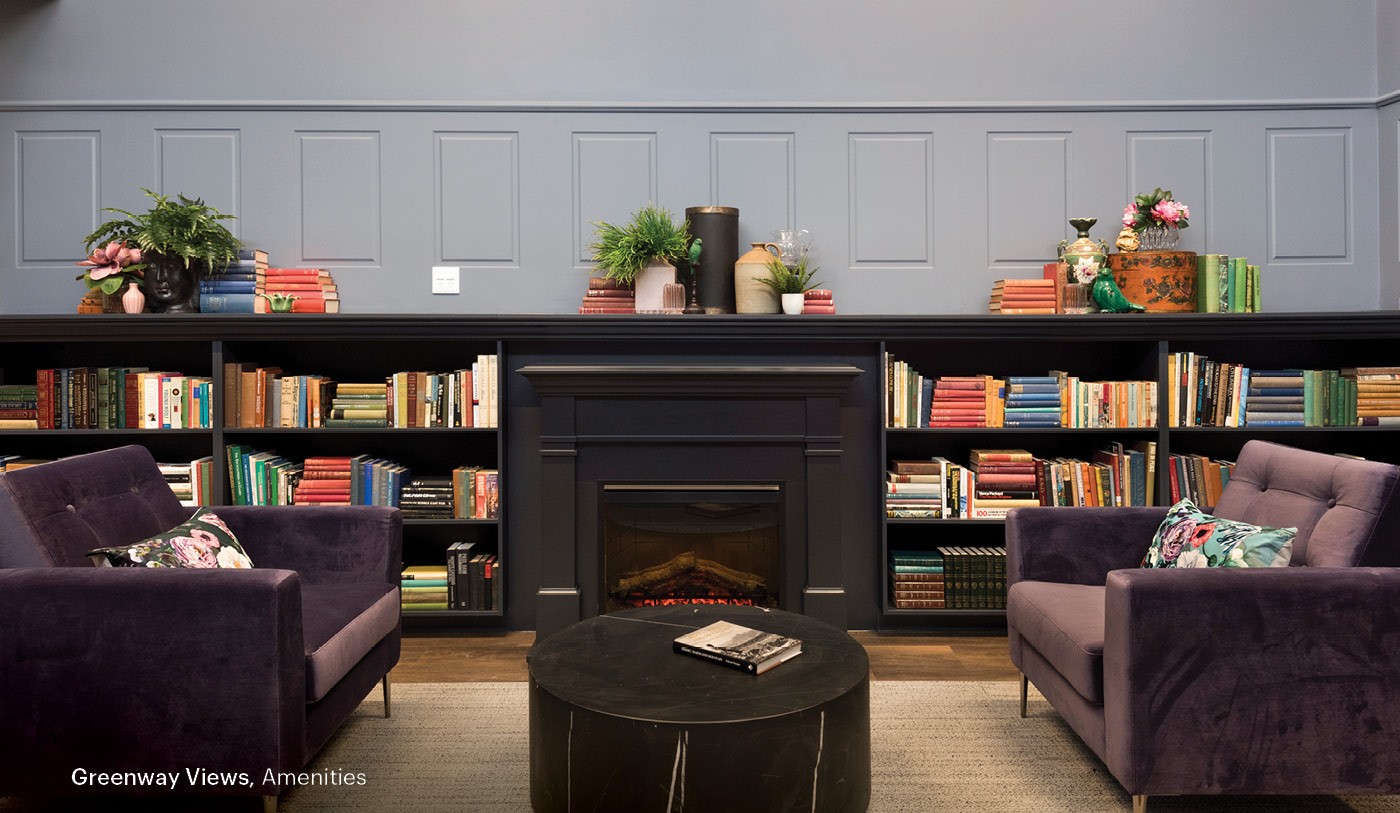 From government offices to contemporary, warm charm
When FDC project manager Elise Klarenbeek arrived at the site she was met with white-walled cubical offices and original office furniture. Alongside Gray Puksand Architects and Northrop Consulting Engineering, the FDC team were excited to breathe new life into the old building.
The team stripped the inside of the building to its barebones and fast-tracked the project with pre-fabricated components for bathrooms and balconies.
Greenway View's warm and modern apartments boast classic wainscoting, timber floors and plush carpeted bedrooms. Each has its own balcony or courtyard facing one of the many lovely views the property has to offer, from its pristine gardens out to the local area including the beautiful Brindabellas.
The entire building marries luxe finishes with soft neutrals and pops of effervescing colour. The movie theatre is the picture of old Hollywood glam with lush red curtains and detailed wall panelling. Residents can visit and enjoy everyday, the stunning on-site bar housed with a piano and large billiard table, or they can enjoy a touch of pampering at the barber or salon, complete with marble benches and LED beauty mirrors.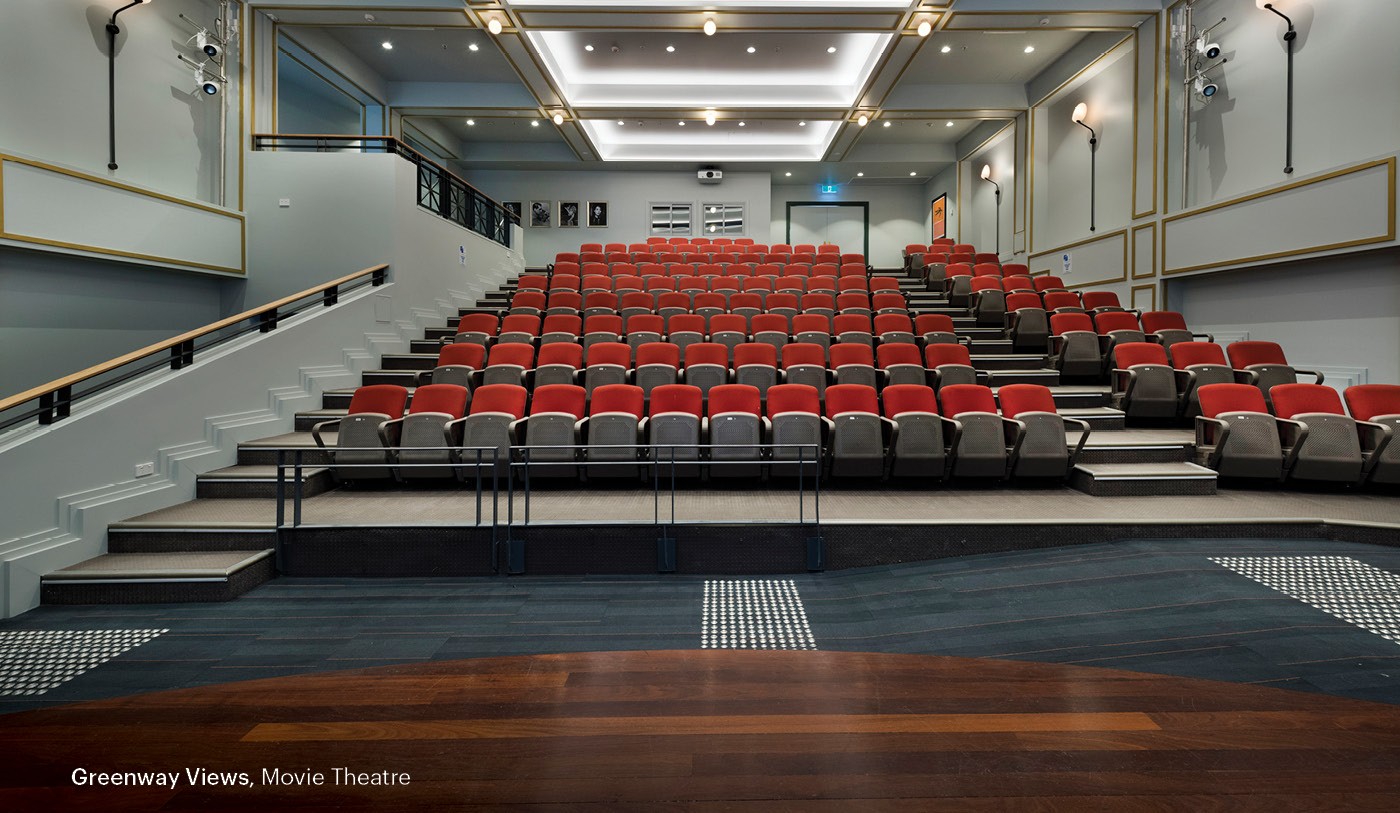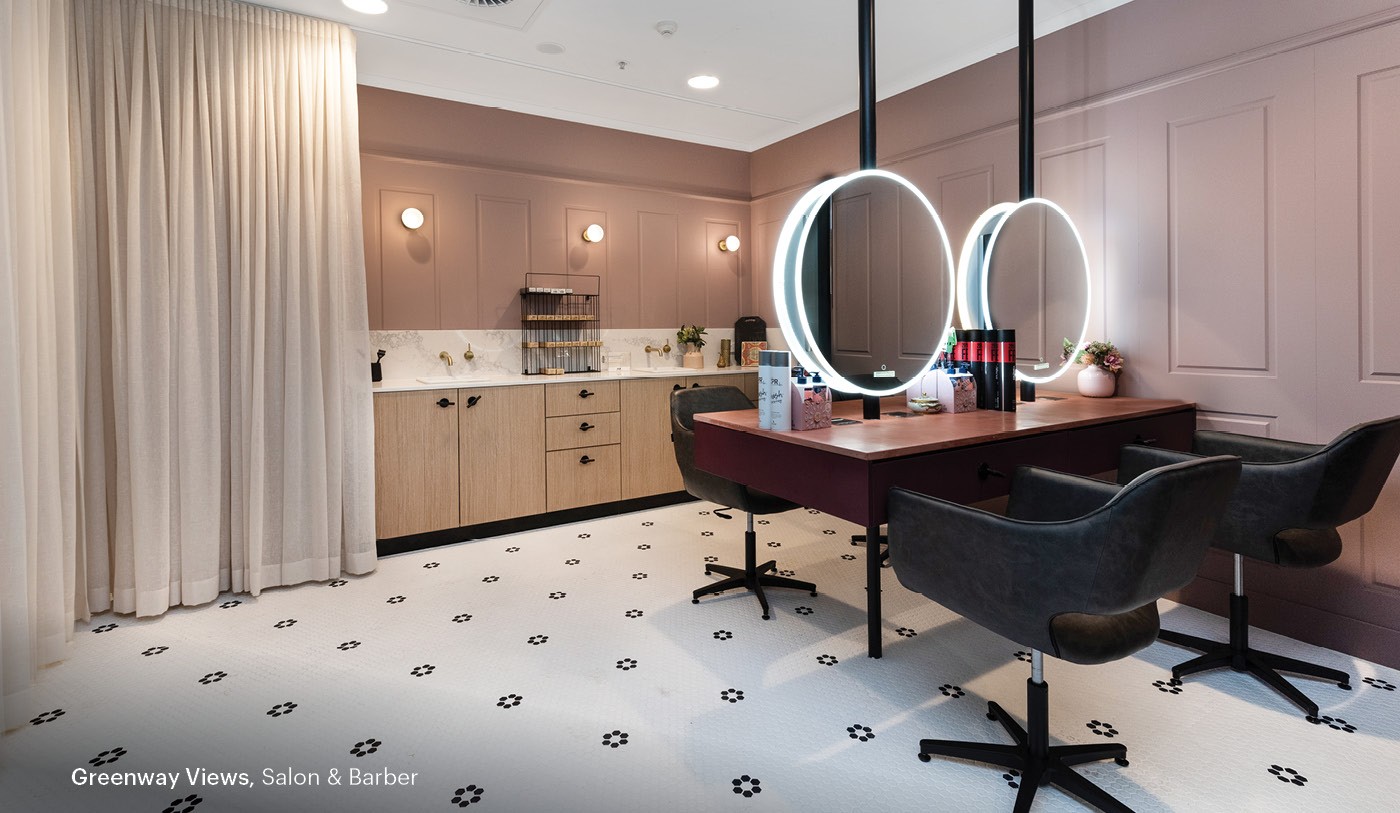 An Australian first for sustainability
At FDC we're committed to contributing to a more sustainable construction industry and planet. At Greenway Views, this meant retaining as much of the site's structure as possible.
"People usually just knock a building down and start over again to achieve a Green Star building," said Elise. "But they don't think about all the damage and waste demolition produces."
Elise and her team retained the structure and façade of the building, and recycled 97% of the waste the project produced. Plus, all existing furniture from the old building was donated to local charities and businesses. The team's diligence resulted in 3,775 cubic metres of project waste diverted from landfill – that's about ten Olympic sized swimming pools' worth.
Throughout the building, LED lights reduce light energy consumption by 50%, while Casambi Bluetooth controls – used for the first time in an Australia retirement facility – cut this even further. These wireless solutions reduce electricity usage by adjusting intensity based on the time of day.
Greenway Views is one of the first aged care villages to utilise solar specifically to subside resident electrical costs. Boasting a 700kW solar array that offsets over 20% of the building's power consumption saving money for residents and LDK.
Greenway Views certainly lives up to its namesake with a 4-star Green Star rating – making it the only retirement village in Australia to achieve such a rating.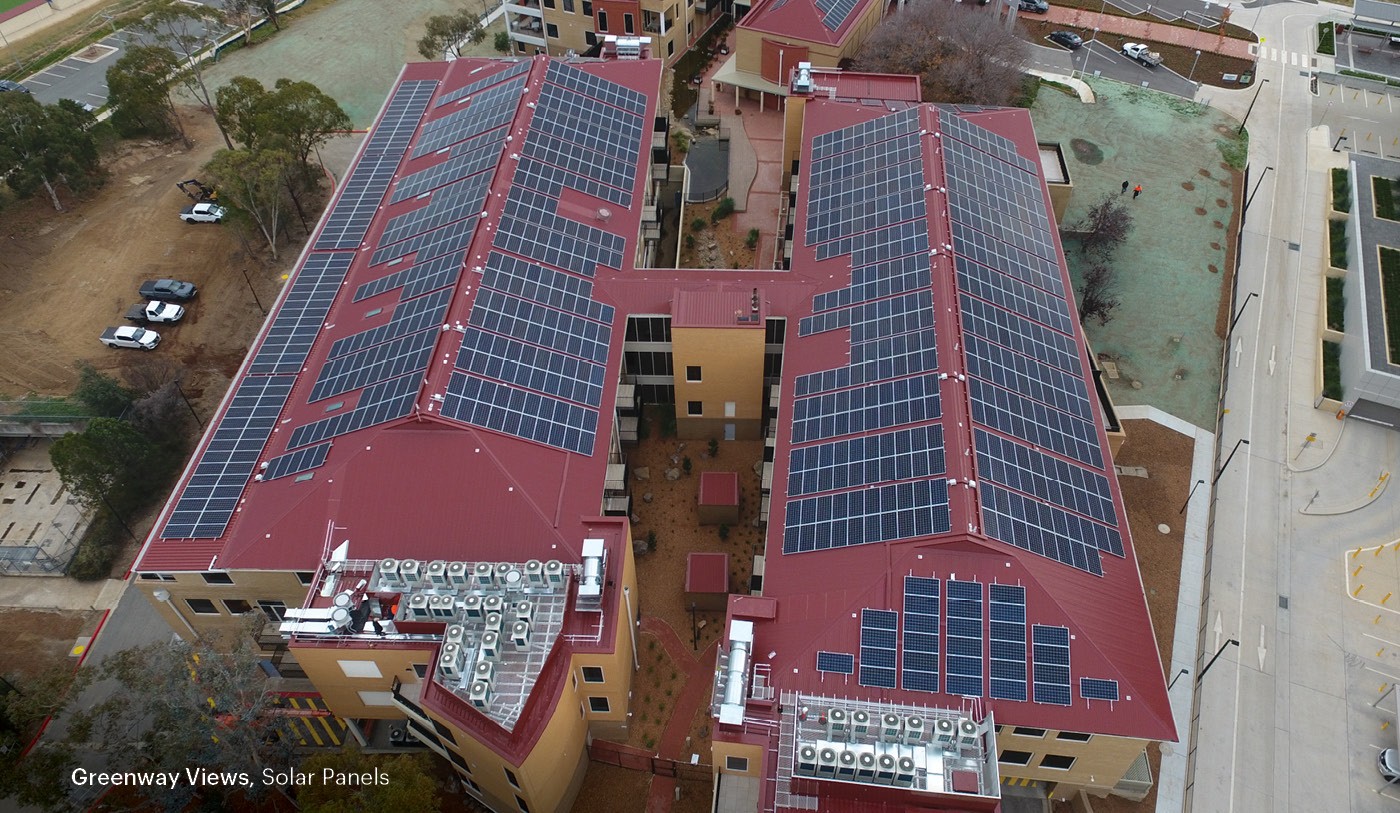 An award-winning home for senior Australians
In 2021 the property was awarded Best Sustainable Development for an existing building at the Property Council of Australia's Innovation and Excellence Awards and ACT Development of the Year at the Innovation and Excellence Awards. In 2020, it won the Development of the Year for Retirement, Aged Care and Senior Living at the Urban Developer Awards.
"I loved going back into the building once it was occupied and seeing the space used as intended. It was a really nice feeling," said Elise.
Today, residents enjoy watching kangaroos on the hills of the Brindabellas, dinner with friends and more whilst having access to all the support they need. And they all agree, there really is no place like home, at Greenway Views.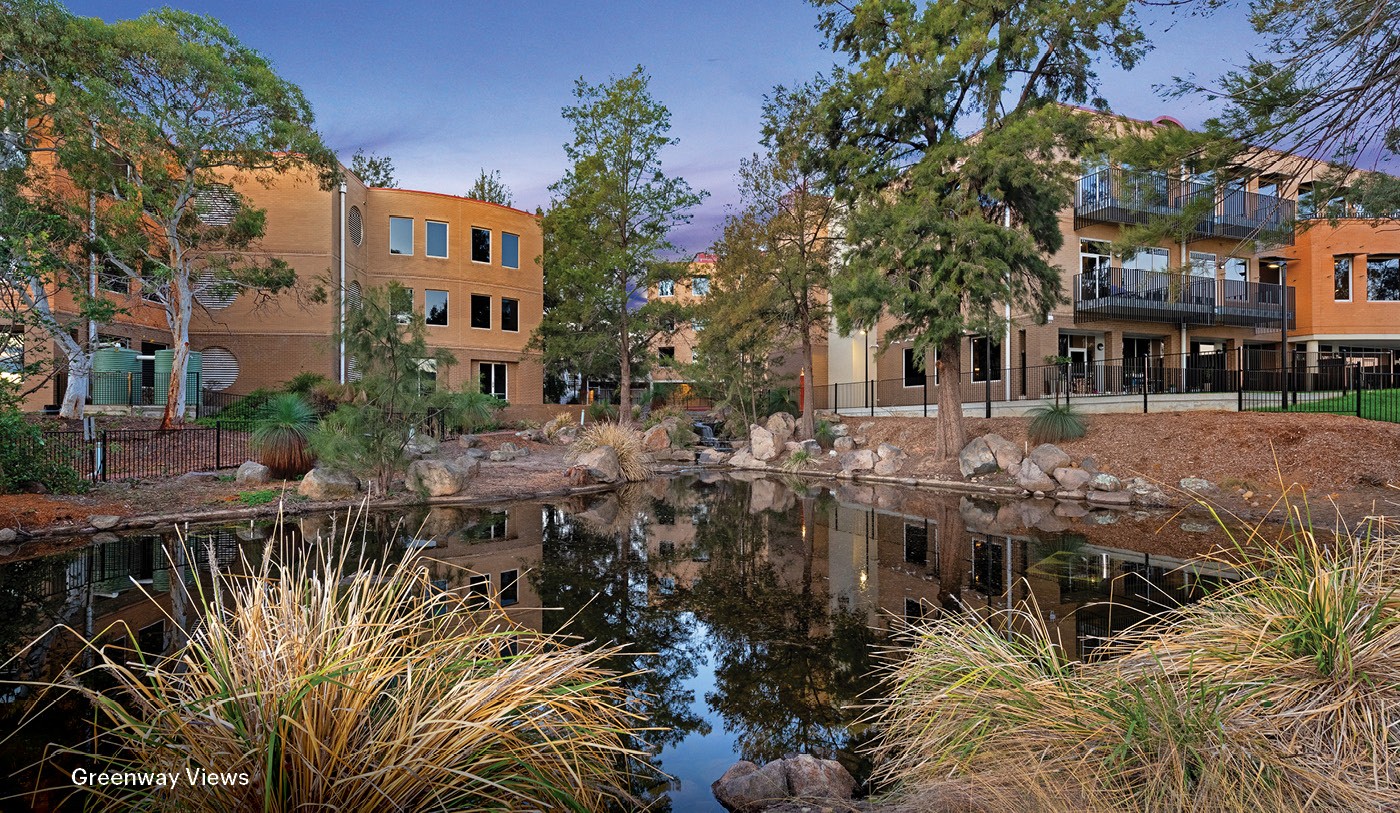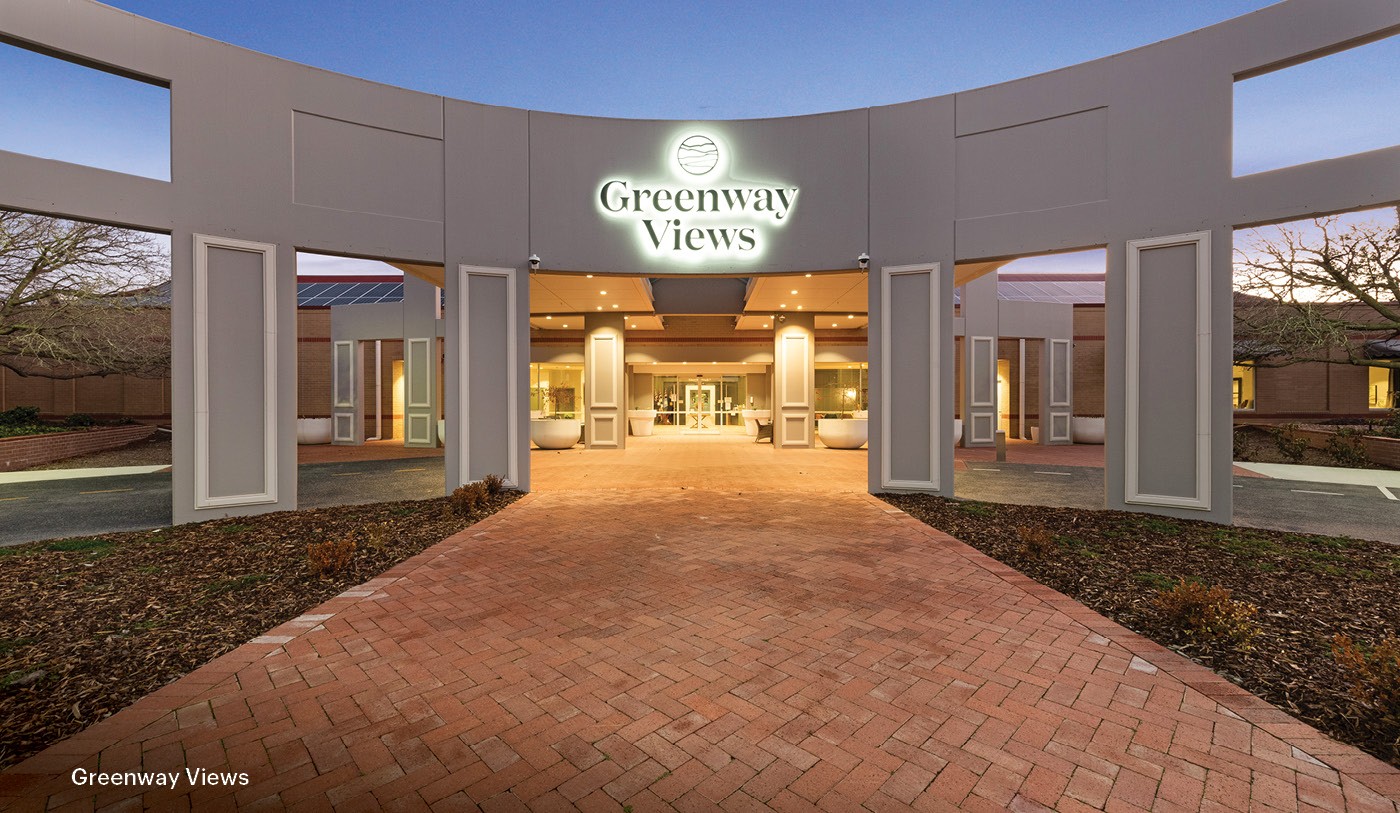 Photography by Kasey Funnell Photography