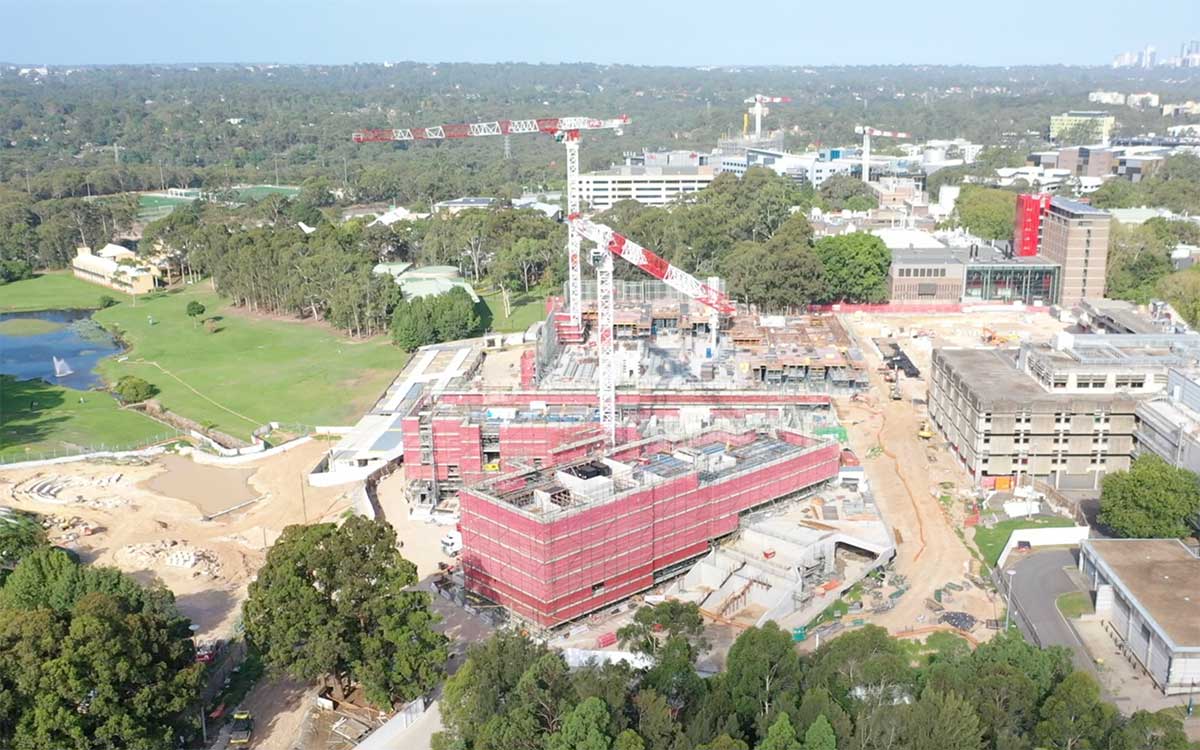 FDC are proud to have been entrusted by Macquarie University to deliver the Central Courtyard Project, a major 41,000sqm redevelopment that consists of three new buildings and the refurbishment of the existing Lincoln Building.
As part of this project, FDC are creating a home away from home for 342 students with the development of the R1 and R2 buildings. The R1 and R2 buildings feature a variety of accommodation types located in the heart of the University campus. There are also 550kW of solar panels covering approximately 3,600m2 of the expansive project.
The new 1CC building will host a new graduation hall, teaching spaces, UBar, food outlets and social hub.
FDC are day lighting the below ground section of pipe for Mars Creek, to establish and connect to the existing riparian zones between Gymnasium Road and Link Road and through the previously developed portion of the creek. The new creek extension will provide new habitat for the University's existing fauna.
With its new and refurbished buildings and significant landscape works, the Central Courtyard Project is set to reinvigorate academic activities and campus life at Macquarie University.
Stats/General Info
5 Star Green Star project
550kW of solar panels, covering approximately 3,600m2
Central plant for Mechanical and Electrical to service all 3 buildings
1CC
25,000m2
Graduation hall, student bar, food outlets, teaching spaces
Complex concrete structure
Graduation hall is 25x45m clear span with 4 levels of concrete structure over, which is suspended from hanging beams on the roof which are 25m long x 3.5m high x 1.8m wide – approx. 300m3 of concrete
Exposed concrete finishes requiring excellent quality control
High quality finishes
Extensive joinery
7m high operable walls in the graduation hall
Stringent acoustic requirements for graduation hall
Complex Façade
Curtain Wall
Shop Front
Frameless Glass
Face Brick
Pop out window bay elements
R1 & R2
12,500m2
342 beds, 264 Rooms
7 levels
Bathroom Pods manufactured off site
Communal kitchens, laundries and breakout spaces
Modular Structure
Ultra Floor system
Load Bearing walls – AFS/Precast
Precast concrete beams
Permanent formwork
2.5km of concrete corbel
5,000m2 of Frontek ceramic cladding
Lincoln Building
3,000m2
Office Space
Food outlets on Lower Ground level
Over-clad structure with perforated aluminium panels
Strip out and Refurbishment
Mars Creek and Landscaping
Regeneration of Mars Creek
Creation of new amphitheatre
Extensive landscape areas around all buildings
Unique Water feature that leads students to Macquarie Lake
Outdoor sports facilities – table tennis, basket ball