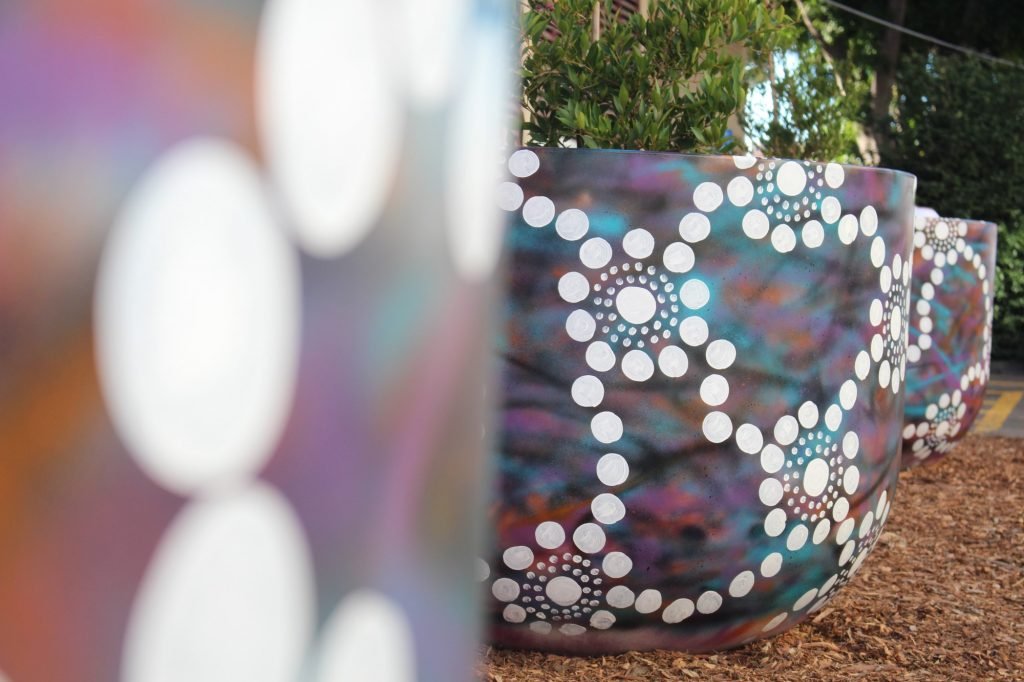 Some of Westmead precinct's finest artwork provides inspiration in the most unexpected places.
Three giant pots carrying lilly-pillies now offer a stark explosion of colour on the north-western end of the loading docks behind Westmead Hospital.
When interviewed during his spray painting session, artist Zac Bennett-Brook jokingly deflected any thought he was a graffitist on the prowl. By day's end, it was clear this was no hobbyist having fun but a leading artist at his rousing best.
"I'm currently painting the colourful background before putting a crisp white design over the top to show an Indigenous artwork all about travel and connecting people," Zac said.
"The hospital's a hub where people come for all types of reasons and hopefully we send them off on a positive journey."
The award-winning Indigenous artist said he gained the confidence to develop his individual style and flair after exploring different mediums. He has since won worldwide recognition, with his works shipped around the globe and exhibited in a range of solo and group exhibitions.
"My ambition is to create and develop engaging and aesthetically appealing works, whilst allowing me to grow artistically and professionally."
This element of engagement convinced FDC – responsible for key fitouts around Westmead Hospital – to support Zac's venture in line with Westmead Redevelopment's refurbishment program. FDC project manager Leonard Micalizzi said the new art would help lift the zone for staff and visitors.
"It's currently a bit clinical when you walk into the loading docks," Leonard said. "So when Zac from Saltwater Dreamtime showed us the work he did, we were amazed.
"It's form and function because it lifts the loading docks with light but also stops cars parking in that area."
Leonard said it was important to involve the Aboriginal community in construction works and across the redevelopment, and FDC would always be on-board to support similar ventures as they arose.
"These initiatives help with the team environment and provide so much more colour."
Upgrades to the loading dock form part of Stage 2 of the Westmead Redevelopment refurbishment works to ensure a safer, more efficient zone to service the adults' hospital and cater for the new Central Acute Services Building (CASB).