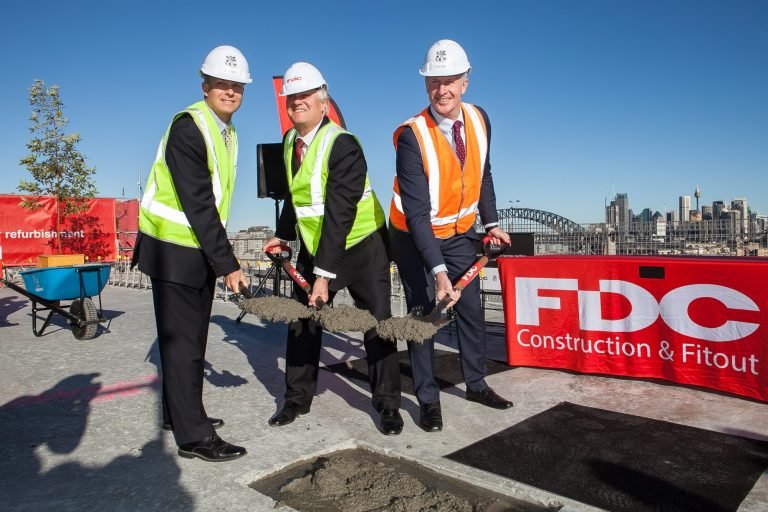 Last Tuesday 20th August, Shore School and FDC celebrated the topping out of Shore's physical education centre. Due for completion in early 2020, the state of the art facilities will feature an aquatic centre, a large multipurpose sporting complex, additional learning spaces, and an extension to the Bishop's Gate Carpark.
The project commenced in March 2018, beginning with eight months of extensive excavation works. This involved the removal and recycling of 135,000t of vegetation, sandstone and demolished building material.
Since construction began in November 2018, FDC and its contractors have installed:
716t of Primary Structural Steel
16,200 Bolts installed to splice the heavy trusses that span the width of the buildings and supporting structure
550t of reinforcement steel
6,300m3 of in-situ concrete.
The ceremony was conducted on what will be the rooftop garden terrace, with Headmaster Dr Timothy Wright, Deputy Headmaster Mr Rod Morrison, and Chairman of the School Council Rev Stuart Holman pouring the final cement. Over 40 Shore delegates witnessed the major project milestone.
The milestone celebrated on Tuesday has only been possible due to the enormous efforts of Shore, their representatives, project managers, and board and committee members, as well as the designers, consultants, subcontractors, and dedicated site team at FDC.
FDC is excited to continue creating a project that will undoubtedly enhance the learning and development of students for many years to come.